-- Written by Léo de Boisgisson
Moyi 莫毅 is widely recognized as one of the most important artists of Chinese Contemporary Photography that emerged from 1980s but he remains relatively unknown in the West. Recently "Thewallpass" has done a focus on his works, intending to show a snapshot of his vast production over the years. A chronological selection of pictures from his various series was made in order to render the different steps in his very experimental approach as well as the "zeitgeist" of China which he captured decade after decade.
Early 80's: Commotion
Born in Tibet in 1958, Mo Yi started a career as a professional football player until he came across photography. When he moved to Tianjin in the beginning of the 80's, it was the high turn of documentary photography in China. He then started to wander around the city, shooting landscapes, gardens and people of the northern city in the shy beginnings of its opening years. Alike independent artists of the early post Mao era, he was eager to distance himself from the visual codes of propaganda and picture the world as it was, may it be dark or imperfect. As soon as the early 80's, Mo Yi started conducting daring experiments destabilizing conventional documentary photography whilst throwing an unsettling subjectivity in all his shots. In his series "Commotion" (骚动) also known as "My Illusory City" shot in Tianjin in 1987, he used black and white film and multiple exposures while shooting a moving subject or while moving himself to render his impressions of this uncertain era where everything was under destruction or construction, blurred and confusing.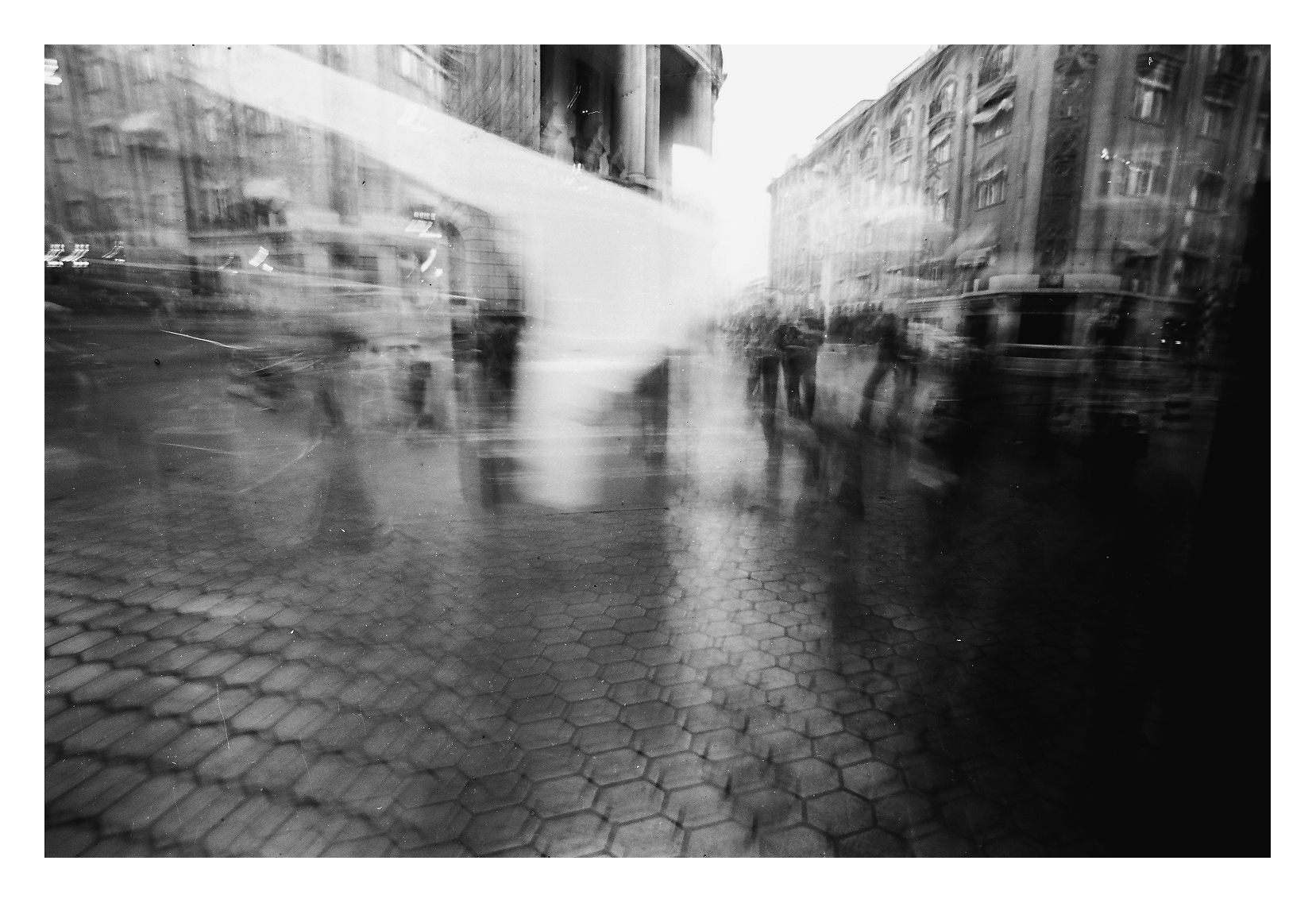 "1m, The Scenery Behind Me"
In the 80's Deng Xiaoping announced that "some people would get rich first" and some did, while the vast majority of the Chinese population languished in relative poverty. And clearly, the people Mo Yi shot in the streets of Tianjin at that time don't have a smile on their faces, they mostly wander aimlessly around the streets with no purchasing power, still all wrapped up in their army coats and Mao suits. Mo Yi was then criticized by the community, his counterparts argued that he only captured the dark and gloomy side of society. So, he made an experiment to show that it was not his eyes that were "sick" but that reality wasn't as bright as claimed in the new propaganda: he hung his camera behind his neck and went out shooting people randomly with a remote trigger. This series entitled "1m, The Scenery Behind Me" referring to the distance between him and the subject, was the first experiment where the camera becomes an accessory, and the image is produced outside the photographer's gaze. In this series Mo Yi also experiment with self-photography, incorporating himself inside the scenery.
Mid 90's: "I am a dog" series
After the fail and repression of the democratic movement in June 1989, Mo Yi was deeply depressed. His feeling of alienation strongly exudes in the series he did later in the year and in the beginning of the 90's. In "Tossing Bus" he took pictures of fellow passengers on a bumpy bus. Most of them are shaky and out of focus while the vehicle itself is a metaphor of his claustrophobia in a post-traumatic summer. In "I am a dog" series (1995), he lowered the camera almost to the ground, to reach the level of a dog's eyes. The images produced are fragments of legs, asphalt and bike wheels, nothing emerges in an entire form. With this statement, he further distances himself from traditional documentary photography, choosing not to represent the people but the way he felt amongst them.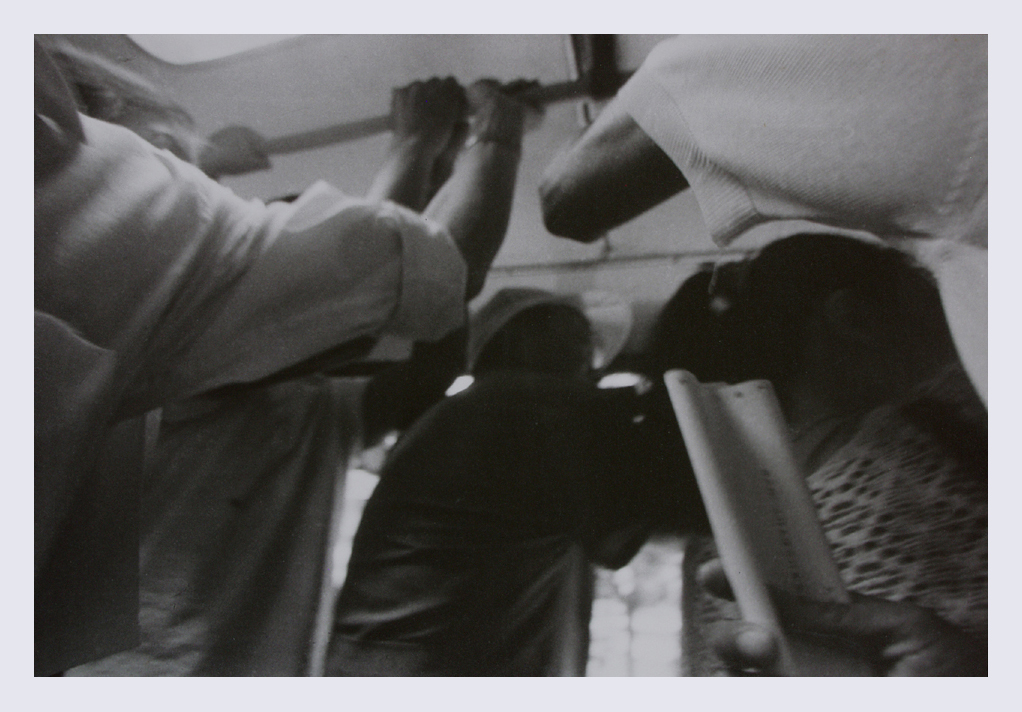 Mid 90's: Self-portraits and performative approach
In China, the repression of the democratic movement was followed by a big silence. Some people left the country, some shut their mouth forever as for Mo Yi, he went back to his birth land, Tibet, for some years. When he came back to Tianjin in 1995, he realized that society had kept on following its capitalist path as if nothing has happened in 1989. He was shocked by the way people adapted to this void and felt like a lonely "specimen" in the middle of a heartless specie. As a response, he produced a large number of self-portraits which mark his turn into performance art. Series such as "A prisoner", "Ten thousand prisoners", "Me in my scenery" "Diary: landscape with me in it" "Front and back", "Landscapes mixed with red" are records or simulations of performances and produce strong visual and theatrical effect. We're lightyears away from the narcissist spectacle which we call selfie today.
2000's: My Neighborhood, a documentary turn:
After his 90's experiments where he focused more on his interaction with the environment than picturing society itself, Mo Yi went back to a more traditional documentary approach in the 2000's. Between 2001 and 2006 he shot every building, every door, every window every air con units of the low-income housing complex he was living in. The result is a monumental series of about 3000 pictures called « My Neighborhood » which shows the imperturbable monotony of Chinese urban planning.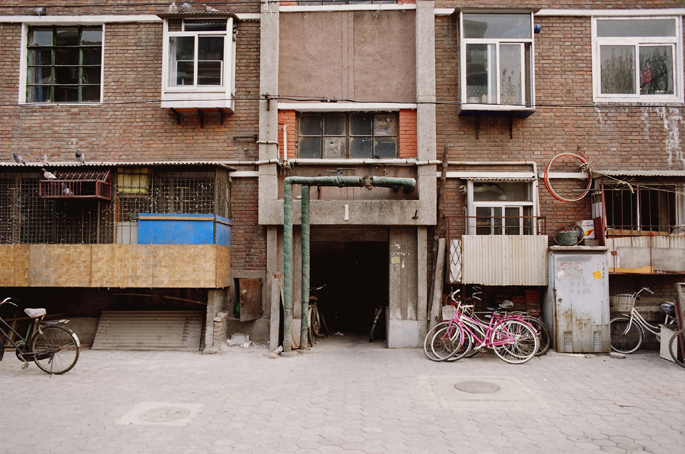 2000's: The unbearable lightness of Takako's dress…
In 2003 and 2004 Mo Yi went back to the "dog sight" approach he had experimented in 1995, lowering the camera almost to a ground level but this time applying a red gelatin to the flash. "Red Scenery,I am a dog" still reflects Mo Yi's way of observing human affairs, never from the front but from aside, while "Dog's eye: Takako and her red skirt" reveals something more poetic and romantic. It is the first time a person's name appear in one of Mo Yi's series, this brings us closer to his personal life.